ONE YEAR GENETIC HEALTH GUARANTEE. TO REPLACE FOR ANOTHER KITTEN

PLEASE HAVE YOUR KITTEN VET CHECKED WITHIN 72 HOURS, IF SERIOUS HEALTH CONCERNS PRESENT, WILL EXCHANGE FOR A NEW KITTEN. THIS GUARANTEE IS VOID IF KITTEN REHOMED OR NOT SEEN BY VET IN 72 HOURS OF PURCHASE. 

WE CAN SHIP TO YOUR CLOSEST AIRPORT.  MEETING HALF WAY (IF NOT TOO FAR) MIGHT BE AN OPTION AS WELL, 

OR IF YOU'RE LOCAL, YOU'RE WELCOME HERE TO PICK UP YOUR KITTEN

WE HAVE GERMAN SHEPHERD DOGS FOR PROTECTION. 

 IN THE PAST WE HAD A BEAR PROBLEM AS THEY WERE ATTRACTED TO OUR BEEHIVES (ANOTHER Hobby).

MOUNTAIN LIONS ARE ALSO COMMON HERE, AND WE FEEL SO MUCH SAFER WITH HAVING BIGGER DOGS

IT ALL STARTED WHEN WE GOT A BLACK BEAUTIFUL FEMALE, THEN WE HAD TO GET HER A COMPANION :-)  

OUR DOGS ARE VERY PROTECTIVE, YET NOT AGGRESSIVE AND DO WONDERFUL WITH LITTLE CHILDREN.  WE HAVE PUPPIES OCCASIONALLY.  AT THIS TIME, WE HAVE STRAIGHT GERMAN IMPORT AND PUPPIES FROM IMPORT DOGS.  THESE DOGS CAN BE SOLD WITH FULL AKC REGISTRATION

PLEASE VISIT  

www.alfa-german-shepherds.com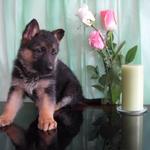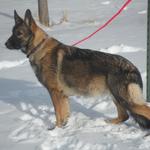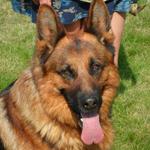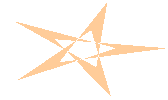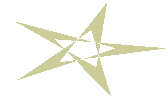 Cats are known to sleep for 19 hours a day. They are great for busy households, and do not need regular walks outside to release the pent up energy that a new puppy requires

 "Cats provide a number of benefits that can lead to a longer life, including a form of social interaction. So, if you want to be healthy and live a little bit longer, consider owning a cat"

source....http://mritechnicianschools.net/2010/17-health-benefits-of-owning-a-cat

"Reduce anxiety: Not only can owning a cat help reduce the stress that you feel, it can also reduce your anxiety. Petting a cat is calming, as are other aspects of caring for cats. When you are concerned with caring for another creature, it can help you take your mind off your worries. Additionally, the presence of a cat that will snuggle with you can help you calm yourself as your enjoy the unconditional love of a cat."

source......http://mritechnicianschools.net/2010/17-health-benefits-of-owning-a-cat

"Reduce risk of heart attack: You can reduce the chances that you will end up with a heart attack when you own a cat. Not only will your entire cardiovascular system thank you, but you can reduce the chance that you die suddenly due to heart attack if you own a cat."

source......http://mritechnicianschools.net/2010/17-health-benefits-of-owning-a-cat/

"Cats have saved countless lives over the years. One cat in the UK warns her human when he's about to have an epileptic seizure, while a cat in Montana woke up its two humans when a gas pipe started leaking. Firefighters told the couple that the house could easily have exploded if not for a cat's intervention"

Source.....http://mentalfloss.com/article/51154/10-scientific-benefits-being-cat-owner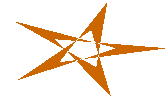 Thank you for looking at pics of our beautiful kittens, please feel free to read bellow facts and other info

Newborn kittens cannot hear or see. They are born with their eyes sealed shut and their ears are folded. kittens are born without teeth. They rely on their mom for all their needs

During the 3rd week of life kittens sense of smell is fully developed and ears are now becoming more erect. Hearing continues to develop.

Their little teeth now begin to push through the gums, and adult teeth will begin to replace baby teeth in a few moths to come. This is also the time when brief handlings of kitten is started.  Momma cat continues to be attentive to her babies but not so much to stimulate them to eliminate or digest food. Mom cat continues to groom her babies to keep them clean

During the 4th week of life kittens begin to interact with their littermates and show interest in the things that surround them. When they are not napping, they are taking on the exploring and playing with each other.

During the 5th week of life, their vision is fully developed. Kittens are becoming adventurous. Their walking is less challenging, their balance is steadier, and they are now playing around with their littermates. This is the time to introduce them to solid foods. They are introduced to the litter box at this time too. They are not yet ready to be weaned off and continue to nurse as needed.

Over the next several weeks kittens will continue to grow. Their eyes start changing color and their development is now at a much slower rate. By 8 weeks of age all their very sharp baby teeth will be in, and they will be fully weaned within next 2 weeks

FACTS ABOUT KITTEN DEVELPEMNT

Between 7 and 12 days of life their eyes will slowly begin to open. Usually occurs over several days. Their vision is blurry until about 2-1/2-3 weeks old. Their ears will start to unfold, but hearing will be muffled. They are now becoming aware of littermates

Silver Classic Tabby Boy

$1800

SOLD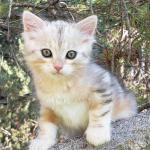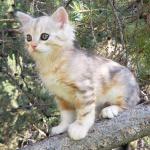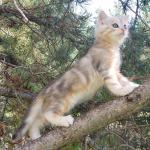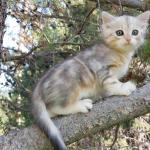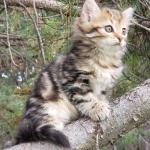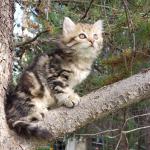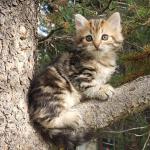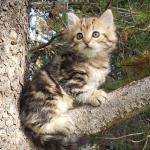 Brown Classic Tabby Boy

$1800

SOLD

Recent litters have all been reserved.

EXPECTING MORE KITTENS TO BE BORN SUMMER OF 2022. RESERVATION LIST IS OPEN. INQUIRE FOR MORE INFO

Feel free to email/text for more info 

(406)212-3919

yaanuta@yahoo.com